In this tutorial you will learn about the Interjection and its application with practical example.
In this tutorial , we will learn about Interjection.
Prerequisites
Before starting with this tutorial we assume that you are best aware of the following topics.
Noun.
Pronoun.
Verb.
Adjective.
Adverb.
Preposition.
Conjunction.
Let's see some examples:
Oh! What have you done this?
Wow! What a car.
Goodbye! See you soon.
In the above examples, the words written like; oh!, wow!, goodbye!…, with exclamation mark are called Interjections.
Definition: An Interjection is one of the parts of speech which shows sudden expressions and feeling of a being.
Feelings like; anger, fear, anxiety, like, dislikes, disgust, joy, love and surprise.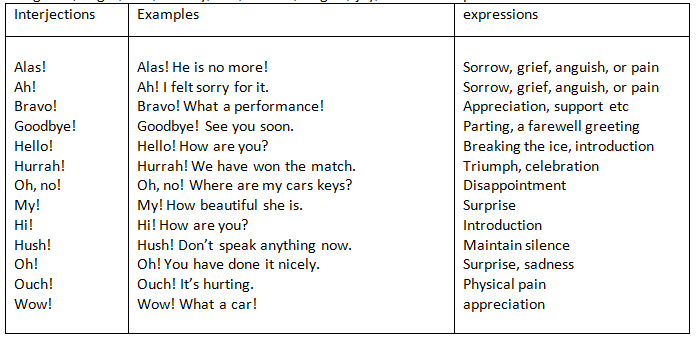 So, now we have reached to the end of introduction of parts of speech…..!
Let us take a small review of them.